Our History
You all may be wondering how a gorilla like me wound up building and operating a miniature golf course in Bonita Springs, Florida, USA. As you may have guessed, I'm not from around here. To tell you the truth I'm not sure where I'm from. Africa, I guess. It's been so long and I was just a youngster when I found myself washed up on the beach at Bonita Springs. I know that I once lived a wonderful life on a preserve, and my family and I had a wonderful time playing all day on thousands of acres of unspoiled jungle.
Dad always said to stay away from the perimeter. He said he knew of animals that got snatched up if they got too close to the fence. He claimed it was treasure hunters who would hide their loot in the cages and ship the animals back to America. Customs officials would never search a cage with a tiger or lion or even a friendly gorilla like me inside! So one minute, there I am playing a little too close to the fence and next thing I know I'm on a freighter heading for who knows where.
It wasn't so bad. I had the biggest bunch of bananas you ever saw to eat, a nice pile of straw to lie in, and buried in that straw was a big old bag that jingled when I shook it! All I could think was, "How about that? Dad was right!"
I'm not sure how long the trip lasted. I ate bananas and dozed on and off. Maybe it was a couple days. Maybe it was a week. But one night things on that freighter started to get awful crazy. First thing I noticed was I couldn't see the millions of stars in the sky anymore. It was pitch black! The wind was really howling and we were getting bounced all over the place! Crewmen were yelling and screaming and next thing I know the chains holding my crate to the deck broke and I was taking the ride of my life! It all reminded me of the time Dad and I found the old canoe by the river and accidentally rode it over the waterfall! Good times for sure, but this wasn't a waterfall! This time I was locked in a wood crate half sinking in the middle of nowhere! Funny, you don't realize your strength until you really need it, and I was shocked at how easy it was to break the side of that crate open. I grabbed the bag and started swimming. That old wood crate never did sink, but it wasn't much help keeping me afloat. After floating for what seemed like an eternity, I saw some lights and found myself washing up on a beach.
It was still dark and pouring rain as I dragged myself out of the surf. I'm not sure why, but the first thing I did was go up to the nearest boardwalk, dig a hole and bury that bag. I had no idea where to go and was rather pleased to see my crate come ashore a little ways down the beach. The straw was gone, but most of the bananas were still there so I just took a seat on the beach and ate a few bananas waiting to see if the sun would rise again. After a bit, well fed and exhausted, I fell right to sleep.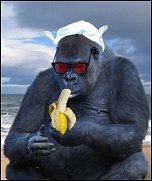 The sun did rise, and as it hit my face and I cracked my eyelids I became aware of quite a commotion. There was a crowd standing around me yelling! I guess they had never seen a gorilla on the beach before! After a few minutes a man in a uniform driving a jeep, just like I saw at the preserve, came rolling up. He seemed a lot less excited than the others, and he calmed everyone down. He spoke softly to me but wasn't getting too close. Next thing I knew, he had a gun aimed at me and he pulled the trigger! Ow! There wasn't any reason to kill me! I was about to give him a piece of my mind and that's when the lights went out again.
This time I woke up in the biggest cage I ever saw. It had big metal bars and a bed that was miserable compared to the straw in my crate. Lots of people came in to see me. Most shook their heads and muttered a few words. I could only pick up bits of what they said but it was obvious they couldn't figure out what to do with me. I stayed in that cage for weeks I guess, and after a while people stopped coming.
 I was beginning to feel very lonely and feared that I'd never see my home or even the light of day again! I didn't even know where my home was! I began to hope the people who took me from the preserve would miraculously find me and send me home. Obviously, that never happened.
One morning somebody new showed up. She was a very pretty young woman named Cindy, and she had beautiful red hair. She was the first person I'd met who actually spoke to me since I'd been at the preserve. We spent some time talking. She seemed to understand me and even if she didn't, she sure could see the look on my face when she asked me if I'd like to come and stay with her a while. My answer was an enthusiastic "Yes!"
Cindy's place was great. She set me up with a place to sleep on the back porch and I even had my own little refrigerator. I had the entire backyard to myself. I whiled away the hours eating bananas and getting to know the local wildlife. There were no tigers or lions or zebras here. And I'd never seen a squirrel or raccoon before. It seemed like every one of them just wanted my food! And none of them were very social. I guess they didn't know what to do with a gorilla any more than the humans did. Weeks turned into months, and months turned into years, and after a while the novelty of the new home began to wear off. I found myself bored and homesick again. As great as Cindy's place was, I simply couldn't live there the rest of my life.
Cindy had spent a lot of time working with me and we were communicating pretty well. She could see I wasn't happy, "like a fish out of water," she'd say. When I told her that I wanted to find a jungle, she tried not to laugh.
She explained that there simply were no jungles in Bonita Springs. I had no real concept of money back then or what things cost. I asked why we couldn't just buy a jungle or make our own.
Cindy said that could cost a lot of money, maybe millions, and she just didn't have that kind of money. "Please take me back to the beach where I washed up," I begged her.
I guess that bag of gold coins was worth a lot of money. We found some land right on Bonita Beach Road near Cindy's. It wasn't much like a jungle when we started, but Cindy helped me find everything I need. We built a mountain with a waterfall and a big lake. We put huts in just like the people used on the preserve. As time went on we added some of my old friends, including elephants, giraffes, hippos, zebras, rhinos and lions! They weren't real, of course, but it made me feel at home every morning when I woke up, looked out my window and saw my jungle friends.
Things were going well. I had my jungle, I had my friends even if they weren't quite real, and I had a lot of those coins left! I was one happy gorilla! But you know what they say about too much of a good thing. As much as I tried to be happy, I was bored again! I guess by now you've figured out that gorillas just aren't much for sitting around. I looked for something to do. I didn't care if I got paid.
Over the years folks had grown pretty accustomed to having me around. They knew I was friendly and many even stopped by my little piece of jungle to say hi or give me a banana. There just wasn't much work for a gorilla in Bonita Springs, Florida.
Cindy and I talked a lot and really couldn't come up with much. Then one night I went out for ice cream with Cindy and some of her friends. The kids were talking about how all there was to do in Bonita was go to the beach or the movies and they wished there was more to do. The little one talked about playing miniature golf back home. That's when it hit me, and Golf Safari was born!
Now, many years later, we have a wonderful miniature golf course right here in Florida! When you visit us, though, you'll think you are in the jungle, visiting my tropical friends and me while you play a fun round of mini golf and have snacks at the hut! Please come and visit us soon!
Previous Page
Next Page